Betsafe Sports Review
Betsafe is a unique site. Not so much in what it offers, more down to the fact that it brings a lot to the table, but very few people talk about how wonderful the site is. That is going to change on this page. The team here at New-BettingSites.co.uk is going to run you through some of the benefits of playing at Betsafe in this nifty little review. Remember; we are only reviewing the sports betting side of Betsafe here.
Betsafe Sports Betting Options
Betsafe has a plethora of different sports available, although maybe not quite as many as the major betting sites out there. However, the company is regularly adding more sports and popular/niche events to its sportsbook, including major ones whenever they pop up, so you should always be able to find something to bet on. Here are the options you currently have:
Football. This includes most major leagues, as well as a few of the lower leagues in 'major' football nations e.g. England, Spain and France (i.e. countries with lower leagues that attract punters)
Horse racing
MMA
Formula 1
Tennis
Boxing
Golf
NBA
Cricket
Rugby
NFL
We would have loved handball included in there too. Yes, we do know plenty of people who bet on handball, mainly on those sites which offer 'in-play' betting. I am sure that BetSafe will add more sports over time.
Live Betting Options at Betsafe Sports
BetSafe does offer live betting, and their interface is easy to read too. However, if you are on a mobile phone or tablet computer, it can be easy to become overwhelmed with the information. I love the way in which their odds have been set up on the page. It makes it really simple for you to find the part of the event that you want to bet on.
There is even a nice little computerised stream which highlights a bit of the action going on. However, I have never found it particularly useful. It is just lines being drawn on a football pitch or whatever you are watching. You may find it useful, I did not. I just wish that Betsafe offered more events when it came to live betting.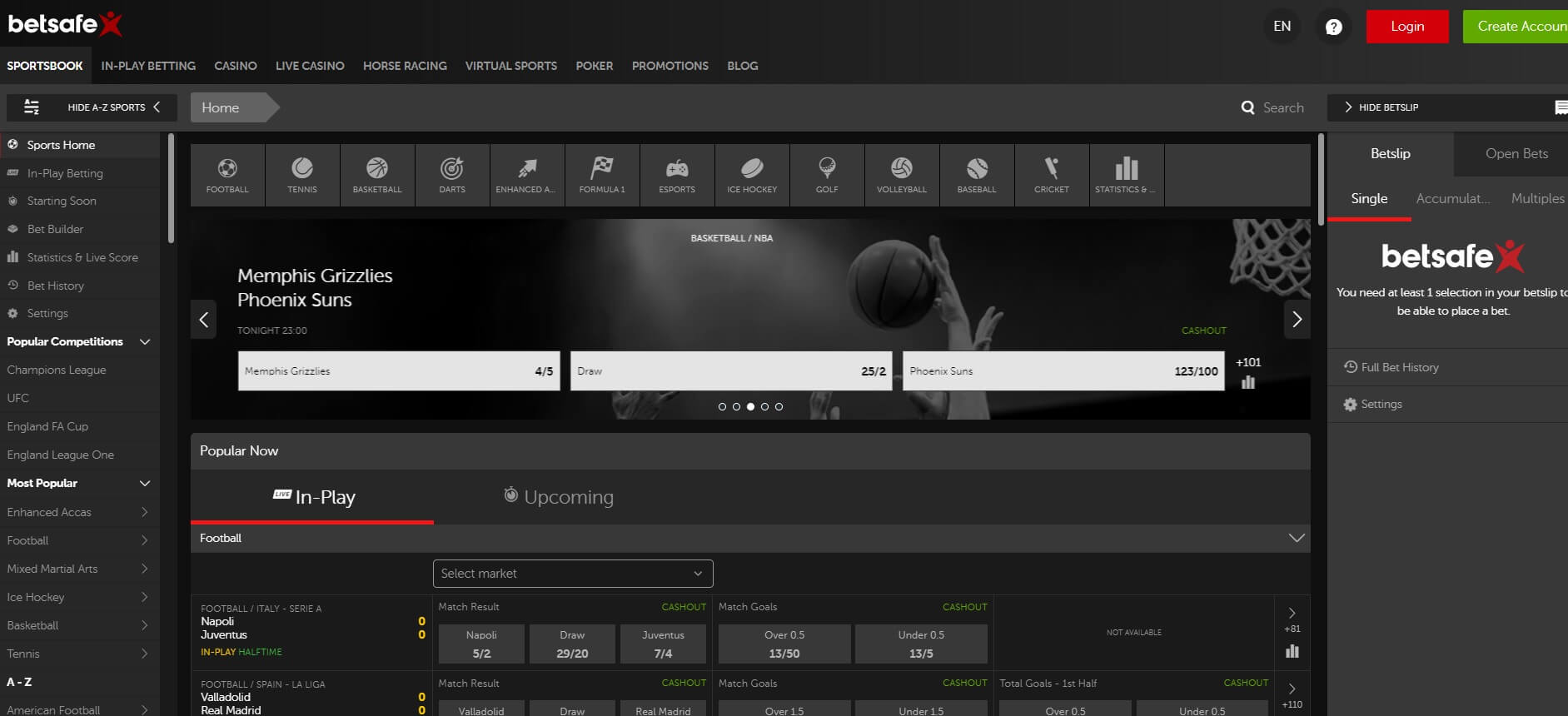 Betting Odds at Betsafe
This is where Betsafe really shines, in my opinion. They may be one of the smaller of the 'popular' online sportsbooks, but they certainly know what they are doing when it comes to odds. You can't expect them to always have the best odds available, mainly because this is impossible, but the odds that Betsafe offer is enough for you to want to play at just Betsafe. You will never feel any inclination to have an account at other online sportsbooks just to ensure that you are always getting the best odds. As you know, it is best to keep all your money under 'one roof' as it makes it easier to manage, so this is nice!
Site Functionality
Betsafe suffers from the same issue that many online betting sites suffer from at the moment. This is the fact that they are always trying to guide you towards specific bets. This is fine if you are searching for a popular event, but if you want to bet at one of the lower leagues, it does cause issues. Thankfully, after a couple of clicks on the site (just hit sportsbook, then the sport you want) and you should be fine.
Betsafe Sports Betting Bonuses
Betsafe is an online sportsbook which loves to cycle through the various bonuses that it offers its clientele. Most of the time, the 'main' promotion that the company is offering will be focused on a major event going on at that time. This means that they will cycle through them quickly. However, the best part is that for most of these bonuses, you can take advantage of them even if you are a current player on the website (think of it as a cool little loyalty bonus). Of course, there are also several welcome offers to take advantage of too if you are not a current player at BetSafe.
Betsafe Review Summary
If you fancy having a tinker with Betsafe, and we suggest that you do, then hop on over to their website and take advantage of some of the Betsafe sport betting promotions today. Remember; act quickly as you never know when they are going to disappear!