Energy Bet Review
Energy Bet may not be one of the most popular sport betting sites in the United Kingdom, but it certainly is one of our favourites. We figured that since we have been spending a lot of time playing here, we should really put together a quick review for the site.
Exclusive Bonus for The World Cup 2018:
As an exclusive offer during the World Cup 2018, Energy Bet are offering al new players a £5 Sportsbook No Deposit Bonus. To claim, all you have to do is email [email protected] with the subject line "5SPORTS". The bonus will be credited within 24 hours from emailing EnergyBet.
Full Terms and conditions of the promotion Apply and can be seen by visiting EnergyBet below
Betting Options at Energy Bet
If you are expecting a wealth of betting options, then Energy Bet may not be for you. You see, while they do offer tons of possible bets, they only really focus on a few sports.
As far as I know, Energy Bet do not currently allow you to bet on political events etc. However, honestly, this is not much of an issue for most people since it is likely that most of you will be betting on sport anyway.
All the big sports have representation, so football, basketball etc. In addition to this, there are several virtual betting options available, but since we do not dive into them too often (we mostly bet on live sports), we can't possibly tell you what they bring to the table, but having read other reviews we do know that they should be decent.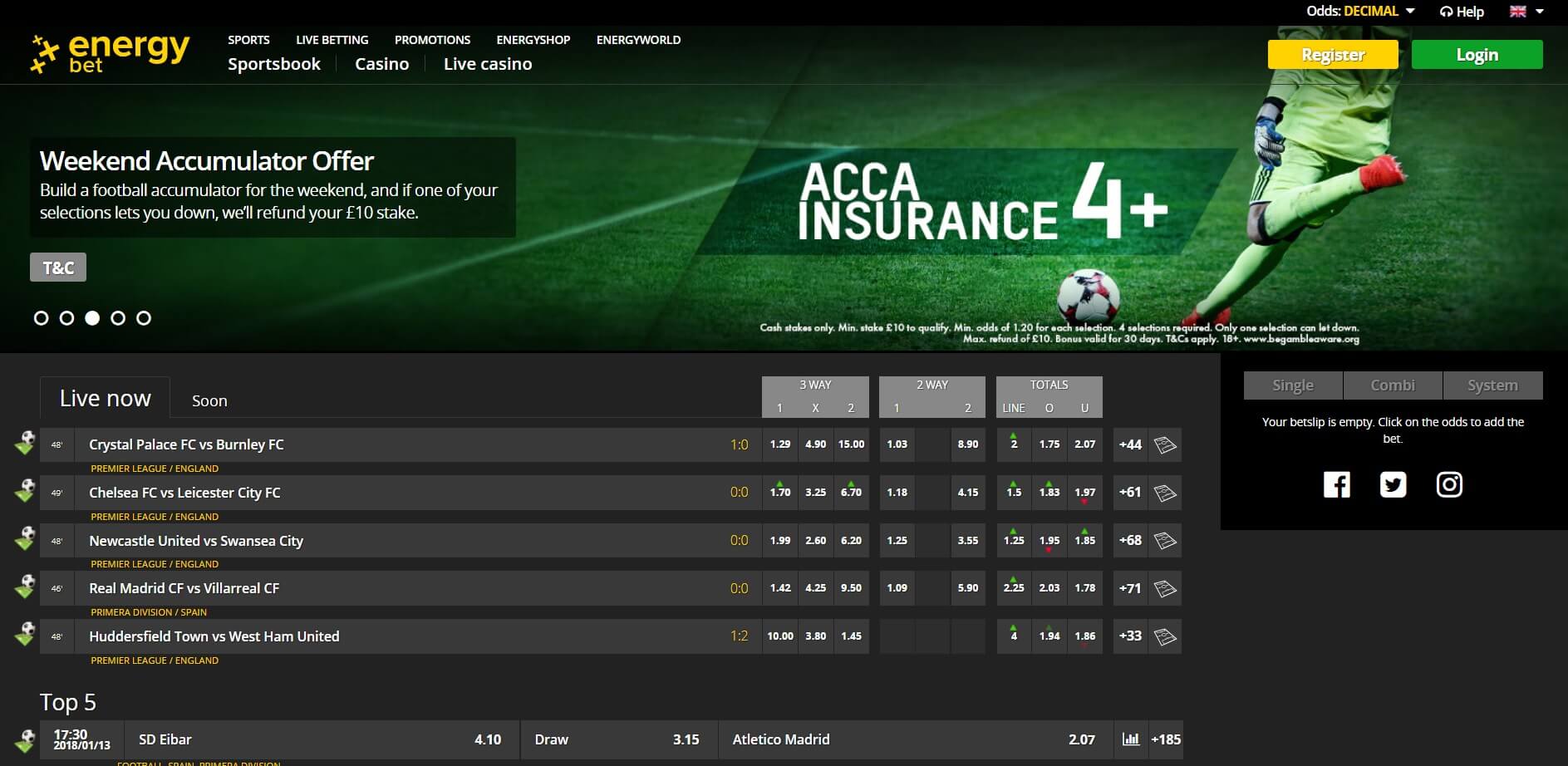 Live Betting Options at EnergyBet
There are live betting options available, and they are fantastic. However, what you must remember is that Energy Bet is a smaller sport betting site than most of the other places in the United Kingdom. This means that there will not be anywhere near as many sports available as one of the larger books.
However, honestly, for most people this is unlikely to be an issue anyway since we are willing to bet that most of you only ever gamble on the larger events.
Betting Odds
For a small website, Energy Bet really does go to huge lengths to ensure that their betting odds are among the best in the industry. Obviously, due to the nature of sport betting, they are not always going to be able to nail the best odds.
However, the odds that you find on Energy Bet are good enough for you to not worry about signing up to multiple sites to ensure you can win some money.
This is a stark contrast to some of the larger sites on the net. Honestly, with the larger sites, it really makes you wonder how they do any business whatsoever with terrible odds like that (oh, wait, yeah, huge marketing budgets at their disposal)
Site Functionality
This is where Energy Bet really let us down a little. At the start, it can be a bit tough to find the bet that you want to make, particularly if you are looking for one of the more unique sports. This is because the company put a lot of effort into trying to guide you towards their live betting options or one of the major events. Once you know how everything works, it will get a bit easier. We just wish it was easy 'right off the bat'.
That being said, the rest of the site is fantastic. We love how much effort Energy Bet have put into ensuring that their site functions well on mobile devices.
Actually, we admire the fact that they have managed to accomplish something which most other larger sites (who no doubt have far higher budgets) have been able to accomplish. This is to build a mobile website which is truly fun to gamble on. Basically, if you love gambling 'on the go', then there is no site better than Energy Bet.
EnergyBet Bonuses
I am not going to talk too much about the Energy Bet bonuses, mainly because this is evidentially a site which is still trying to 'find its feet' in that regard. This means that the bonuses are always changing as the team at Energy Bet are looking to see what works and what does not. That being said, I have never seen a bad bonus offered by the site, which is awesome! At time of writing, you can nab a 100% up t £25 bet when you make your first deposit.
One thing that I do love about Energy Bet, however, is their Energy Shop. Whenever you deposit money into your account, you earn 'Energy Points'.
These Energy Points can then be spent on awesome items in their shop. For example; a boxing glove signed by David Haye. Check out Energy Bet today. Remember; if you sign up now, you will be able to take advantage of the fantastic bonuses that the site is currently running.