FansBet Sports Review
FansBet may not be the first name on the tip of your tongue when people beg you to name the top betting sites available in the United Kingdom. Up until recently, it wasn't even the first name that would have popped to mind for us. We hadn't even heard of it. One of our contacts gave us a nudge in the direction of FansBet, and we are glad that they did. While it is not the main betting site that we use, it is one that we feel that we are going to start using more and more…because it is amazing.
First Impressions
The first impressions of FansBet were not too great. This is because the whole theme of the site is very generic. It is just black, with a bit of text on it. Sure, all of the information that you need to start betting is right there on the front page, but we can't help but feel the site would have been a little bit better if it had a touch of colour injected into proceedings.
One thing which was amazing for us is the fact that there was no additional software that needed to be downloaded to play on our mobile devices. This is one of the most mobile sites we have ever had the pleasure of using.
Betting Options
All major sports are represented here. However, we do want to point out that FansBet is only a sports betting website. So, if you are looking to bet on who dies on Eastenders when Christmas rolls around, this site is probably not going to be for you. It is for those who want to take their sports betting seriously. You have some low league action represented here too, which is always nice if you fancy a break from the big leagues.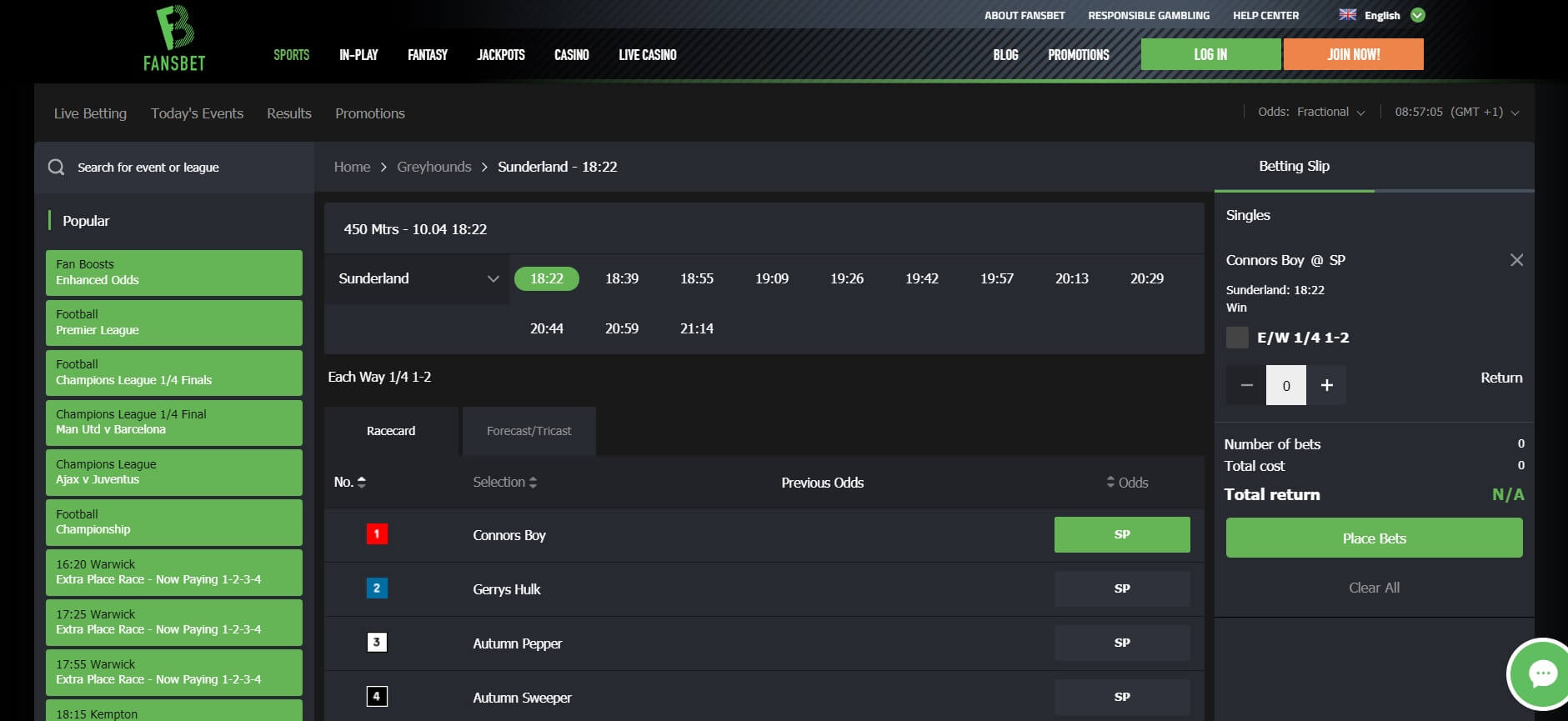 FansBet Sports Betting Bonuses
One thing we can say about Fansbet when it comes to promotions, betting offers and bonuses is that they seem to have everything covered here. As an example, as a new customer, you can claim a welcome bonus, cashback and also get insurances on your Accas. If you're looking to take advantage of a welcome betting bonus then you can claim the new customer welcome bonus available at Fansbet (below is the newest up to date UK welcome offer)
What's more, there's also a casino bonus available for those who love to play slots and games whilst waiting for their bet results to come in! The options are pretty impressive and in line with some of the larger betting sites out there.

Odds
One of the major benefits of betting with a new website is the fact that they do not have huge overheads on their website. This means that they do not need to make as much cash on the bets that they offer. There aren't dozens and dozens of staff members to pay. This means that sites like FansBet are able to offer slightly better odds than some of the largest online bookmakers out there.
Sure, due to fewer people betting on sites like FansBet, you are not always going to find the best odds here. This is all due to how betting works and the fact that even a small bet is able to swing the odds drastically. However, a lot of the time this is something that you are going to be able to work in your favour. So, keep an eye on those odds, particularly just before a game is about to start, and you may find that you end up with a tremendous deal.
Live Betting Options
You will be pleased to know that FansBet offers live betting. While it does not have all the games that some of the larger bookmakers will have on their website, they will cover all the main events. In our opinion, the whole system that FansBet has set up is going to be a lot easier to read than the big bookmakers too. There are fewer ads, which means that it is a lot easier to find the information that you need at a quick glance. This makes the site one of our favourite places to live gamble. As the site picks up, there is no doubt that they will start to add more and more events into their system.
Casino Games & Slots Available
I do want to round off by saying that FansBet also boasts a pretty decent online casino. It isn't the main focus of the site by any stretch of the imagination, but it is nice to know that you have something extra that you gamble on if it really tickles your fancy. It is mostly a slots site style of online casino, with a bit of live dealer casino thrown in for good measure, which is fine for a site which is mostly about the sport betting anyway.
Summary? Check Out FansBet!
While it is not the largest sports betting website in the world, it is easily up there with the best of them. It is still building up the number of sports that it is able to offer for the masses to bet on, but what you find on FansBet right now will be the most popular sports, and that's what most of you are probably going to be betting on anyway.