VBet Sports Betting Review
When I loaded up VBet for the first time, I must admit that I was not exactly enamoured with the design of the site. It is packed to the brim with ads, which does make everything look a little bit 'busy'. However, I promise you, once you start diving into everything that VBet brings to the table, you will start to forget about the poor design choices of the site…plus, hopefully you will be winning a wad of cash so you won't care at all.
First Impressions
As I said; the look of VBet is not going to be the greatest in the world. The design, once you land on the homepage, is somewhat confusing. I think that this is a lot down to the fact that VBet is trying to dip their hands into as many pies as they possibly can (they are some good pies!), which does provide a lack of direction on the site.
Once you get into the actual betting part of the site, everything becomes a lot easier to read. There are noa ds trying to steal your attention away from whatever you are doing, and you will be able to find what you need with no more than a couple of clicks. I think the one major issue I have with the design of VBet is the fact that it doesn't default to fractional odds on their sport betting site. It defaults to decimal odds. Sure, this is not going to be a problem for the majority of the world, but we here in the United Kingdom love our fractional odds.
Thankfully, you will be able to flick them on with a single click. It actually baffles me why the site has gone down this route, because most others will say "hey, this person is British. Let's do fractional odds"
Game Selection
The selection of games available on VBet is huge. If you can think of a major (or minor) sport, then you can bet your bottom dollar that you are going to be able to find it on VBet.
One thing that particularly surprised me is that VBet is one of only a few sport betting sites out there which will actually allow you to bet on eSports. They even have a few eSports that you can bet on which you will not be able to bet on elsewhere.
Throughout the year, VBet claims that it offers 40,000+ 'live' games that you can bet on. Now, obviously I do not know whether this is true or not. I have not taken the time to count. However, since they always have a few dozen events running on the site, I wouldn't be surprised if they were easily hitting that 40k a year. They even have minor leagues for you to bet on, although I doubt that there are that many people out there who are doing this.
It is worth noting that VBet is purely a site for sport betting. So, if you are thinking about betting on who is going to win the next series of Strictly Come Dancing, you won't be able to do that here. Although, some may argue that this is a good thing.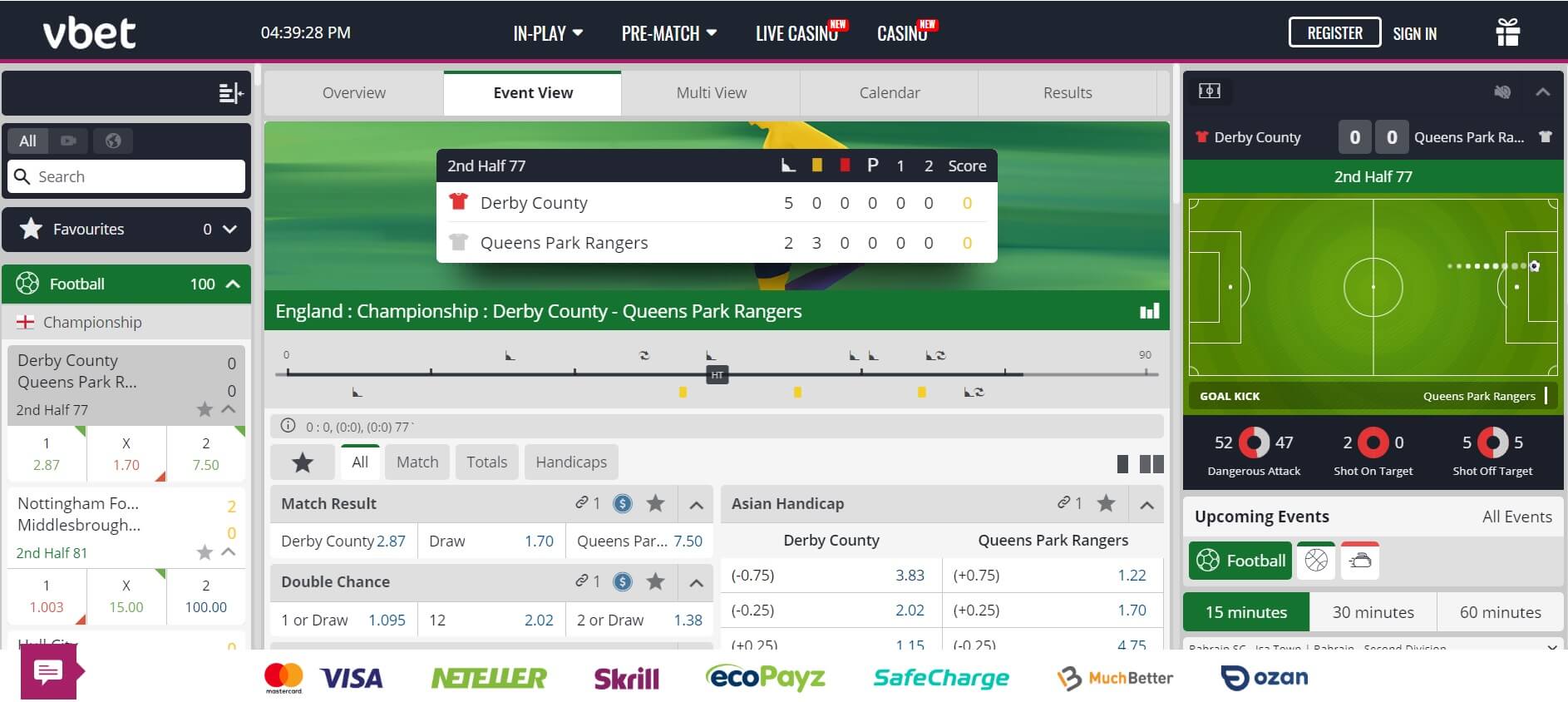 Betting Odds
This is where VBet shines. Since they are a fairly new site, they are trying to make their way in this world packed to the brim with bookies. This means that they need to offer tremendous odds. Now, obviously, a site is never going to get perfect odds each and every time. However, the odds that VBet offers are incredibly competitive, and you would not be disappointed if this is the only site that you have an account on.
Online Casino
It is probably worth pointing out that there is also an online casino at VBet. Now, while the main focus of the site is going to be the betting (it is right there in the name), the online casino isn't too shabby either. It is a great way to spend some of the bunce you have won. Plenty of games to dive into, including a few live casino games for good measure.
Get started with VBet today
Ready to start betting? Hop on over to VBet today and start to place bets with some of the best odds available in the UK right now. In fact, sign up today and you may even be able to enjoy a nice little bit of bonus.